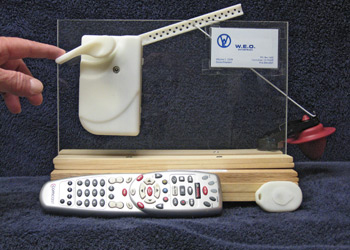 Remote Controlled Flushing System
Can be Retro-fitted to any Tank Toilet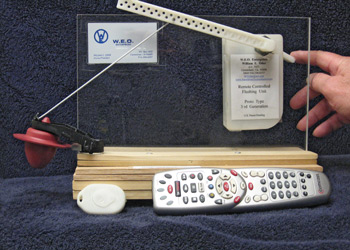 Never Touch to Flush Again!

Easy Installation
Retro-fits to any Tank Toilet


The 21st Century way to Operate your Toilet . . .
Remote Controlled!
Retro-fit ANY water-filled tank toilet to allow the toilet to be flushed via a battery operated infrared Remote Controller, which can be placed up to 8 to ten feet from the toilet to be flushed WITHOUT touching the toilet ever again.
Unit has a typical lever handle which allows movement to flush as normal. The lever may also be "jiggled" when needed to reset the toilet's ball cock if it sticks in the open position, as sometimes occurs with a tank toilet.
Infrared actuation signal is compatible with generic (standard) remote controllers found in the market today for universal television remote controllers.
To View a brief Video, Click Here


Installation and Operation
The existing toilet lever handle is removed and the Hands Free battery-operated remote controlled flushing unit is then inserted into the now-vacated standard lever opening. The connecting rod is reconnected to the usual ball cock chain as typically found.
The battery operated unit on the tank will receive an infrared signal transmitted from the battery-operated remote transmitter, which can be placed 8 to 10 feet away from the toilet to be operated. Some advantages being: Never having to touch the toilet to flush; Eliminate exposure to toilet over spray and germ contamination; Eliminates bending over to touch the lever or fumbling in the dark for the flushing lever.